I play on two online poker Malaysia sites. The first site, based in Malaysia, is Shenpoker. I appreciate its soft cash games (see the video below). However, it falls short when it comes to offering tournaments.
The second site is W88. They stand out due to their exceptional tournament selection and their reputation as the most trusted online casino in Malaysia. They offer not just poker but also sports betting, slots, and live dealer games.
This article is an update, featuring new videos from my initial "online poker Malaysia" review, which I first published on casinowinners.asia in 2020.
Shenpoker review – 100% Bonus and gameplay videos
I found a totally crazy online poker Malaysia website, that is full of players from Indonesia, Malaysia, Thailand and Vietnam.
Its called Shenpoker and I made gameplay videos that show the action. Shenpoker is a Malaysian based online poker site, that belongs to the IDN Network and the games are super soft.

The videos are long, but try to watch at least 10 minutes, so that you get a sense of the level of players.
How can Malaysian poker players join Shenpoker?

Step 1: Go to Shenpoker official website by clicking here
Step 2: Click on "Register" and choose Regular or Premium registration – It doesn't really matter in my experience.
Step 3: Click "Sign up" and choose your Username, password and mobile number ( I've used fake phone numbers without issued). Then fill the captha number and click Submit.

Step 4: Now click on cashier, and deposit using Malaysian online bank transfer or crypto. Below is a picture of different Depositing methods: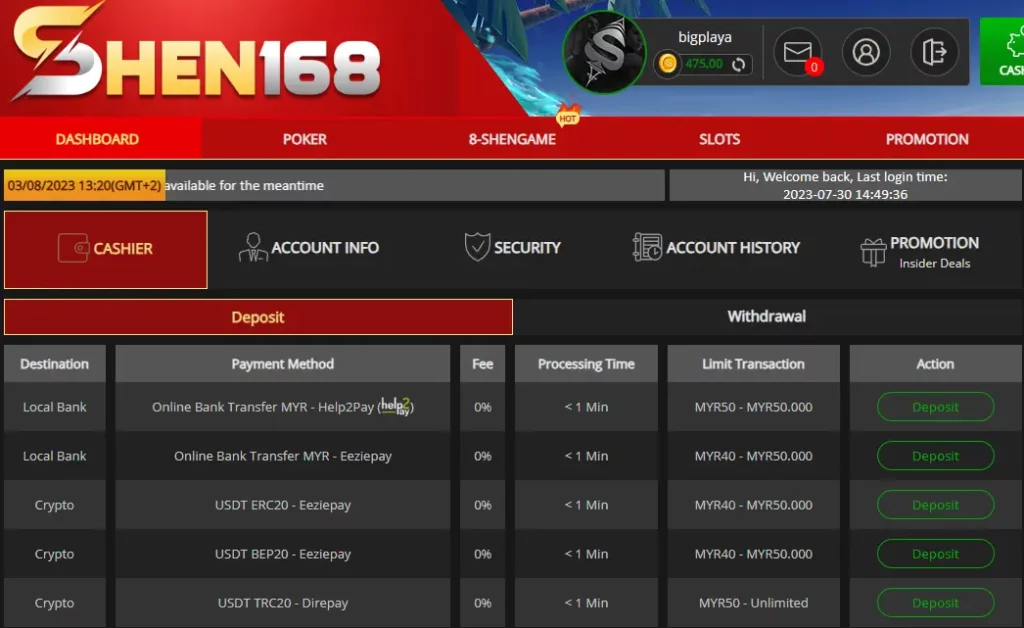 W88 Poker overview for Malaysian players
For Malaysian online poker players interested in large tournaments, W88 is a better choice. Their cash games are much more difficult than Shenpoker because they accept European players also.

W88 is the largest full solution gambling site that accepts Malaysian players and have a lot of MYR bonuses. I made a video overview of how to access their poker section. In the video I show how to download the poker client, what games they offer and what tournaments were currently available. I also tried to find any tables with Malaysian players in them but had no luck – check the video below.


1. The Rise of Online Poker in Malaysia: Tracing the Evolution
"Bro, you know how much I love the KL life, right? Well, lately, I've seen loads of peeps here getting into online poker, big time! It's not just about easy cash; it's like an online lepak spot where everyone hangs. Plus, there's history – Malaysians have always loved their card games."
2. Safety First: Ensuring Secure Gameplay on Online Poker Malaysia Sites
"Dude, safety first, always. When I stream on Twitch, I always tell my viewers to pick legit sites. You know, the ones that have solid encryption. No one wants a nasty surprise, especially not in the middle of a hot streak!"
3. Diving Deep: Features that Set Malaysian Online Poker Sites Apart
"I mean, why do you think I'm so hooked? These sites, man, they've got some super cool features. Local payment options, Bahasa Malaysia support – they've thought of everything! Makes you feel right at home, lah."
4. Mobile Gaming: Accessing Online Poker Malaysia on the Go
"Got a phone? Then you're set. I'm chilling in a mamak or waiting for the LRT, and bam! I'm in a game. That's the beauty of mobile poker here – so convenient!"
5. Banking Solutions: Understanding Deposit and Withdrawal Options for Malaysian Players
"Oh, and speaking of convenience – the payment stuff? Smooth sailing. Local bank transfers, e-wallets, crypto, you name it. Makes cashing out those winnings even sweeter."
6. Cultural Nuances: How Online Poker in Malaysia Differs from the West
"You'll notice, man, we Malaysians have our own vibe at the poker table. Sometimes we're a bit laid back, sometimes we go all out. It's these little cultural things that make it interesting."
7. Legal Landscape: The Status of Online Poker Malaysia in 2023
"Legally speaking, it's a bit of a gray area here. But you know, people find their way. Just gotta be smart about it and choose those offshore platforms."
8. Beginner's Guide: Tips for Starting Out on Malaysian Poker Sites
"New to the scene? No worries. Start small, maybe even free games. Watch the pros, like that Malaysian champ Michael Soyza. Oh, and if you want some tips, check out my streams on Twitch!"
9. Tournaments vs. Cash Games: What Malaysian Online Poker Platforms Offer Best
"Some days, I'm in for quick cash games; other times, I'm all about those long tournaments. That's the beauty of it – there's something for every mood."
10. Connecting Beyond Borders: How Online Poker Malaysia Attracts a Global Audience
"And the coolest part? It's not just us Malaysians. I've played against folks from all over the world on these platforms. Talk about a global poker party, bro!"
Online Poker Malaysia FAQ


1. Q: Yo BigPlaya, is online poker even big in Malaysia? A: "Absolutely, bro! Ever since I got to KL, I've noticed it's been blowing up. Everyone's trying their luck, and I've met tons of peeps online. It's the new lepak spot!"
2. Q: Heard a lot about safety issues. What's the deal? A: "Look, just like you wouldn't buy nasi lemak from a dodgy stall, right? Same thing. Stick to the reputable poker sites. Make sure they're legit. And when in doubt, catch me on Twitch, and I'll guide you."
3. Q: What sets Malaysian poker sites apart from the others? A: "It's the vibe, lah! Localized features, support in Bahasa Malaysia, and those spicy promotions tailored just for us Malaysians."
4. Q: Can I play on my phone during my Teh Tarik breaks? A: "100%, man! Most sites are optimized for mobile play. So you can sip your teh tarik and call someone's bluff at the same time."
5. Q: How do I handle the money stuff on these platforms? A: "Easy peasy! Local bank transfers, e-wallets, even crypto sometimes. It's all set up for us Malaysians. Just make sure you're using a site that's straightforward about their fees and stuff."
6. Q: Is there a difference in how Malaysians play poker compared to Westerners? A: "Totally! We've got our own swagger, our own style. Might be a bit more cautious, or sometimes we go all out. Just adds to the thrill!"
7. Q: Is online poker even legal here in Malaysia? A: "It's a bit of a gray zone, bro. But most of us play on offshore platforms. Just gotta be a bit street-smart about it."
8. Q: I'm new to this. Any beginner tips, BigPlaya? A: "Always, man! Start with small or free games. And if you want some real insights, tune into my Twitch streams. I drop gems there!"
9. Q: What's hotter right now – tournaments or cash games? A: "Depends on your vibe. If you're in for quick action, cash games. If you're planning to be the next poker king, then tournaments are where it's at."
10. Q: Are these platforms just for Malaysians or what? A: "No way, dude! It's a global party. I've gone head-to-head with peeps from all over. That's what makes it even more exciting!"